SADAKO AND HER SENBAZURU
FROM JAPAN
TO THE CHILDREN
ALL OVER THE WORLD
---
A Picture Book
with the Wish
for Nuclear Free World

---
( SHANTI/Aurora Jiyuh Atelier)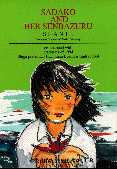 This is a story about the short life of a girl who was bombed at age tow in Hiroshima in 1945.
 Sasaki Sadako died from the atomic disease 10 years after the A-bombing.
 Her classmates built "The Children's Peace Monument" in Hiroshima Peace Park in Japan wishing for Nuclear Free World.
 We also create this book for the same purpose.
 SADAKO AND HER SENBAZURU tells not only of the casualty of A-bomb but also the Japanese aggression in Asian and Pacific area during the Second World War to realize true history.
 Please read this book. And please discuss about what you can do in order to abolish nuclear weapons on the earth.
 This picture book SADAKO AND HER SENBAZURU was published in Japan.
 If you would like to get this book, please contact the following.

Aurora Jiyuh Atelier
3-19-3 Megurohoncho, Meguro-ku, Tokyo, Japan
facsimile (+81)+3-3792-9780
E-mail:

Forward to the English version of "Sadako and Her Senbazuru"