<![if !vml]>

<![endif]>
HOME@@@@Video List @@ Japanese
<![if !supportEmptyParas]> <![endif]>
<![if !vml]>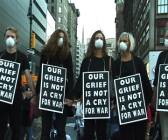 <![endif]><![if !vml]>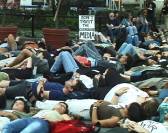 <![endif]><![if !vml]>

<![endif]><![if !vml]>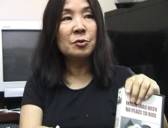 <![endif]><![if !vml]>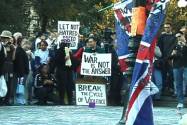 <![endif]>
Silent No Longer
One Year after 9.11
Produced by Video Juku, Directed by Aono, Emiko
2002/VHS/Color/23 min.
<![if !supportEmptyParas]> <![endif]>
Union Square, 8:46 AM September 11th, 2002.
Students and people on their way to work stop to lie down on the ground. The event is a "die-in," held to mourn the victims of the September 11th attack that took place exactly one year prior, as well as the victims of the subsequent US military attack on Afghanistan.
<![if !supportEmptyParas]> <![endif]>
The die-in is also an act of protest against the war lead by the US military forces. Many New Yorkers are tired of what they have seen and heard from the mainstream media following September 11th: stars and stripes, heroes and patriotism.
<![if !supportEmptyParas]> <![endif]>
People who recognized that the media was practicing self-censorship in its war broadcasting turned to the creation of their own alternative, grassroots media. This new media is independent from the state or private corporations, and focused on the internet as a borderless tool that allows voices and information to reach out to people all over the world.
<![if !supportEmptyParas]> <![endif]>