Hokuli'a Development destroying culture and environment of Hawaii
Japan Airlines should stop the Golf development project in Hawaii!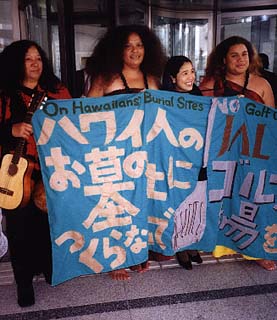 Hawaiians and Japanese protest in front of the headquarter of Japan Airlines in Tokyo (March 26, 2001)
Latest News
Honolulu Advertiser newspaper carried a big article titled "Kona burial sites disturbed" on May 7th reporting how the development project destroyed the burial sites of Indegenous people in Hawaii. Visit to read the original article
Just imagine how you feel if your ancestors' grave was bulldozed and destroyed by a foreign developer, and then they build a luxrious golf resort and gated community exclusively for super rich people. Or imagine if the ocean in which your families for generations have been gathering seafood was covered with mud from the development and you can no longer continue the traditional lifestyle. This is what's happenning to the native Hawaiian people right now in South Kona.

---

last update
2001/05/08